| | | |
| --- | --- | --- |
| | | Since 1995, this site has been sponsored by: |

a great place to buy Zoeller pumps is at
The PlumbingSupply.com
---
Series 100/102
Economical sewage systems designed for built in or free standing installation.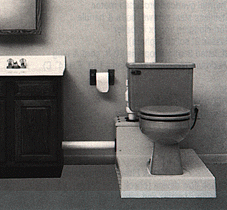 Designed to accommodate a toilet, lavatory and bathtub
Use with a variety of toilet styles
Perfect for basements, family rooms, warehouses, factories, room additions
No need to destroy concrete floors
Reduces contruction costs
Pumps any direction
Fits just about anywhere
Buy at PlumbingSupply.com
---
Drain Pump Series 104-105-110-115-120-131
Removes water from areas where gravity flow is not available.
Editor's Note: (Please excuse the coffee stains on the scans - this is LatteLand)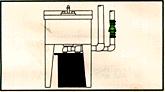 Automatic Laundry Tray Pump.
No inlet filters or screens to clean.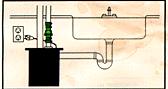 Wet Bar with Sink
Automatic cast iron or brass series pumps
with tank cord seal.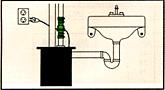 Lavatory sink
Polyethylene basin and lid.
IAPMO Approved.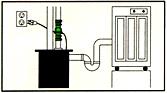 Dehumidifier or Air Conditioner.
Internal discharge pipe to lid.
Check Valve (30-0181)
PlumbingSupply sells laundry tray pumps
---
Simplex & Duplex Sewage Systems
Sump - Dewatering - Effluent - Sewage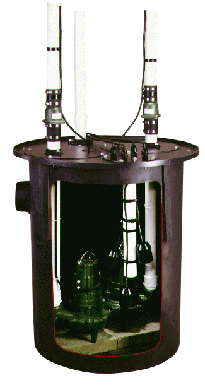 Ideal for homes, farms, trailer courts, motels, restaurants and institutions were drain facilities are below existing sewer lines.
Meeting the codes with the most comprehensive line of systems available.
Effluent - 1/2", 5/8", 3/4" spherical solids.
Sewage - 2" and 3" spherical solids.
Discharges 1 1/2", 2". 3" N.P.T. and 4" Flg.
Controls -
Mechanical & variable level float, contractors, combination starters, mechanical & electrical alternators.
Basins -
Polyethylene Structural Foam, Polyethylene or Fiberglass with 10' stack test models.
Check Valve -
Full Flow for low or high pressure.
a great place to buy Zoeller pumps is at
PlumbingSupply.com
---
read about: International World Toilet History
Copyright © Since 1994 ThePlumber.com