as seen on TreeHugger.com, a Discovery Company
The demand for water in Dhaka, Bangladesh is 2.4 billion liters a day, but the city can only produce 2.1 billion liters, according to the country's Water Supply and Sewerage Authority (WASA). According to other estimates, the gap between supply and demand may be even larger, AlertNet reports. In an effort to address this growing problem, the government has announced plans to require new buildings in Dhaka to install rainwater harvesting systems.
According to AlertNet, a city official said the revised building codes are expected to be implemented this year, and that the collected water will be used both for drinking as well as to supply underground water reserves.
Dhaka will not be the first to implement such a program, but if it improves the city's increasing water problems, it cannot come too soon.
In Bangladesh now, the April-through-May dry season leads to water shortages, which force people to either buy water or collect it from ponds or rivers, followed soon by intense floods throughout the country. Reports about floods and waterlogged streets have come out of Bangladesh throughout July and continuing into this month, affecting everything from daily life in Dhaka to the processing of imported goods because of poor conditions at the country's ports.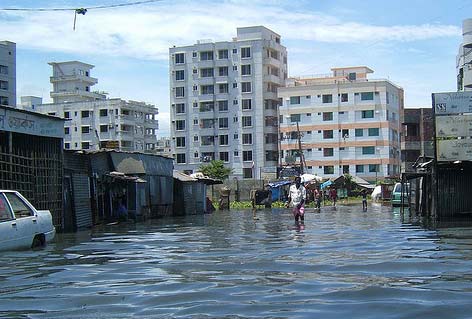 More from AlertNet on the increasing problem of diminishing groundwater supplies:
"In our study, we found that in some parts of the city the ground water level is going down by 3.5 metres every year and on average it is going down two to three metres," said SM Mahbubur Rahman, director of the water resources planning division at the Institute of Water Modelling.
"This is alarming," he said. "If the ground water level goes in this way, there will be severe water shortages in the future, and it is also harming the environment. Government must find an alternative to ground water."
Rainwater harvesting, which UNEP has called a lifeline for human well-being, is part of Dhaka's strategy to move away from relying on groundwater to meet the city's water needs and to turn instead to surface water.
http://www.treehugger.com/files/2011/08/dhaka-bangladesh-next-city-require-rainwater-harvesting.php