WASHINGTON, March 31, 2015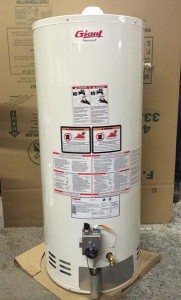 Name of product: Gas water heaters
Hazard: On units with a space between the bottom of the water tank and the combustion chamber, the flame arrestor or flame arrestor plate can fail, posing a risk of fire or explosion if flammable liquids or gases are nearby.
Remedy: Replace
Consumers should immediately ensure there are no combustible materials near the water heater and contact Giant for a free inspection. If the water heater has a space between the bottom of the water tank and the combustion chamber, Giant will replace the water heater free of charge.
Consumer Contact: Giant at (800) 363-9354 anytime or online at www.giantinc.com then click on Recall Information for more information.
Units: About 240
Description: This recall involves atmospherically vented propane and natural gas water heaters in 30, 40, 50 and 60 gallon capacities. The recalled water heaters are white with a red "Giant" logo decal on the front. The water heaters have a nameplate near the gas valve with the model number, date of manufacture and serial number. Recalled water heaters have the following model number and have a serial number within the following ranges:
Model
Serial Number Range
UG30‐30MF‐N2U‐US
A7093000, A7176930 to A7176932
UG40‐32LF‐P1U‐US
A7125009 to A7125069
A7129350 to A7129373
A7136418 to A7136422
A7170513 to A7170522
A7170524 to A7170527
A7177431
A7182196 to A 7182283
UG50‐36LF‐P1U‐US
A 7120387
UG50‐40LF‐N1U‐US
A7120400 to A7120417
A7121718 to A7121722
A7147644 to A7147651
A7181128 to A7181133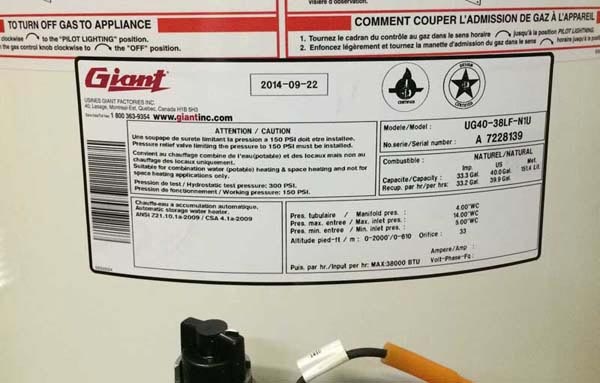 Incidents/Injuries: None reported
Sold at: Independent distributors in Maryland, New York and Pennsylvania from April 2014 through October 2014 for between $340 and $830.
Manufacturer: Giant Factories Inc., of Canada
Manufactured in: Canada
CPSC Consumer Information Hotline
Contact us at this toll-free number if you have questions about a recall:
800-638-2772 (TTY 301-595-7054)
Times: 8 a.m. – 5:30 p.m. ET; Messages can be left anytime
Call to get product safety and other agency information and to report unsafe products.
http://www.cpsc.gov/en/Recalls