Sometimes you need help choosing the right type of pump. Sometimes you need help determining the size of a pump. And sometimes, you just have basic questions. Below, you'll find our answers to some of the most frequently asked questions about pumps.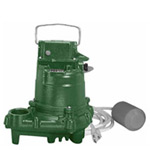 Q: "I would like to add a toilet in my basement, but all my drain lines are above. I need to be able to pump the sewage UP. What can I do?"
A: You'll have to check with a plumber for what the options are in your particular home, but in many cases, a macerating toilet or grinder pump can be installed with very little fuss. Many units can also deal with wastewater from sinks, showers and tubs, making it that much easier to have a full-on bathroom wherever you need it.
Q: "What is the difference between a sewage ejector pump and a grinder pump?"
A: A sewage ejector pump has impellers that enable the pump to pass a predetermined size of solid matter without clogging the discharge. These are most often used when waste does not need to travel a great distance to the main drain line. A grinder pump has cutter blades that macerate and shear waste solids. The resulting "slurry" is easier to transport through standard pipe over long distances, making these the preferred choice when the main drain is located further up and/or away.
Q: "How does a compact grinder pump work?"
A:  The compact grinder pump uses scissor-cutting action to grind and cut the waste into a fine slurry which then allows it to pass through the unit's discharge line to the main drain.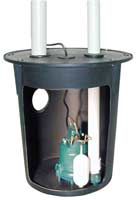 Q: "What's the difference between an automatic and non-automatic pump?"
A: An automatic pump has a built-in float switch that will turn on the pump automatically at a fixed water level. After the water is pumped out to certain water level (also preset), the pump will turn itself off. A non-automatic pump has to be manually turned on and off, or use a separate control like a piggyback float switch.
Q: "My automatic pump stops and starts constantly, how can I make the pump run longer?"
A: This "short-cycling" is a function of the basin diameter and the "on/off" pumping range, and can decrease the service life of a switch assembly. Since the basin is in the ground, it is unlikely that it can be enlarged. And if you have an automatic unit which has a self contained float switch, the "on/off" pumping range cannot be adjusted. But with a non-automatic switch-controlled unit, you can have flexibility in the pumping range adjustment. If this occurs, an automatic unit can be converted to operate with an external pump switch, which will expand its pumping range and decrease the amount of short cycling. Installing a check valve in the discharge line will also help decrease short-cycling in most cases.
Q: "How does a VLFS (variable level float switch) work?"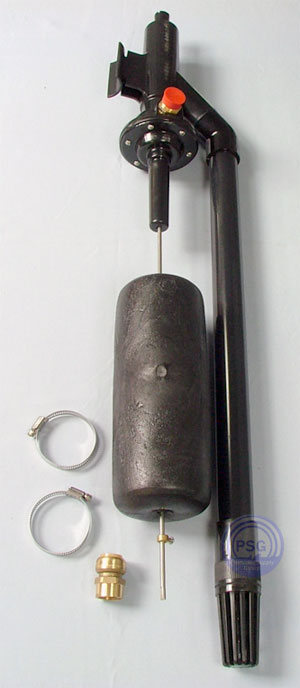 A: The pumps that come with a variable level float switch are non-automatic pumps. You just attach the float switch and the pump will behave like an automatic pump. However, the VLFS allows you to specify the water level (between 6" and 36") that will turn the pump on/off. This is different than standard automatic pumps with a preset water level that turns them on and off. Since the VLFS is detachable, the pump can also be used as a non-automatic unit whenever needed.
 Q. "Anything I should know before purchasing a water powered back-up sump pump system?"
A: Because potable water is directly connected to these sorts of pumps (which could also have non potable water in them), many codes and municipalities require that a special backflow prevention device be installed. The check valve that comes with the HOME GUARD®, for example, is a type of back flow prevention device, but many municipalities and codes do not recognize that style as "approved" (at least at the time of this writing). We recommend you check with your local building department and if required, purchase the appropriate double check valve assembly to go with your pump. We always recommend a double check valve, but at the very least, install a quality 3/4" swing or spring check valve.
… more questions? Our friends at PlumbingSupply.com can help. Plus, they offer the largest selection of plumbing-related pumps for just about anything!