WASHINGTON, Feb. 24, 2015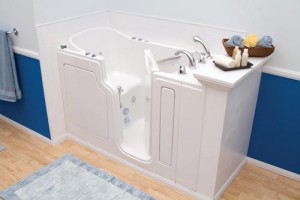 Name of product: Safe Step Walk-In Tubs
Hazard: The tub's heated seat can get stuck in the "on" position. If a towel or other item is covering the seat of an empty tub, the seat can overheat, posing a burn hazard to consumers.
Remedy: Label/New Instructions
Consumers should not put a towel or other item on the seat and contact Oliver Fiberglass for new instructions and warning stickers to place on the tubs. Oliver Fiberglass is contacting tub owners directly.
Consumer Contact: Oliver Fiberglass toll-free at (888) 492-9423 any time, or online at www.safesteptub.com and click on the Recall link on the Safe Step homepage for more information.
Units: About 6,400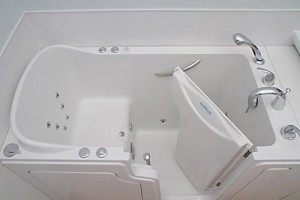 Description: This recall involves Safe Step walk-in, hydro-massage bath tubs with heated seats. The recalled tubs have model numbers LP2848, LP2851, LP2853, LP3153 or LP3255 and serial numbers 124423 through 131569 containing the prefix HS, HSHY, HSHS, HSMB or MBHS. The model and serial numbers are located on the back of the small access panel on the faucet end of the tub.
Incidents/Injuries: There have been 11 reports of the empty tub's heated seat getting stuck in the "on" position, including one report of the seat overheating and becoming hot to the touch. No injuries have been reported.
Sold at: CKH Industries, New Windsor, N.Y.; Galkos Construction, Huntington Beach, Calif.; Gulf Atlantic Home Solutions, Clermont, Fla.; Home Smart Industries, Aston, Penn.; IPS, Hohenwald, Tenn.; New Bath, Jefferson, La.; Remodel USA, Capitol Heights, Md.; Safe Step of Minnesota, Burnsville, Minn.; Safe Step of Nevada, Las Vegas, Nev.; Safe Step Tubs Northwest, Tukwila, Wash., and Safe Step Walk-In Tub Co., Nashville, Tenn. from January 2014 through September 2014 for between $12,000 and $15,000.
Manufacturer(s): Oliver Fiberglass Products, of Hohenwald, Tenn. (tub shell) and NuWhirl Systems Corp., of Corona, Calif. (heated seating equipment).
Distributor: Safe Step Walk-In Tub Co., of Nashville, Tenn.
Manufactured in: United States
CPSC Consumer Information Hotline
Contact us at this toll-free number if you have questions about a recall:
800-638-2772 (TTY 301-595-7054)
Times: 8 a.m. – 5:30 p.m. ET; Messages can be left anytime
Call to get product safety and other agency information and to report unsafe products.
http://www.cpsc.gov/en/Recalls