courtesy of Reeves Journal, July 1997
by Leland Edward Stone
If nothing else, traveling the information superhighway is interesting, inexpensive, and potentially useful.
The Net was started by a group of scholars who kept in touch with each other via their computers. Soon the government got involved, then private industry. The data explosion turned out to be a godsend for just about everyone in the real world, including plumbing and HVAC contractors.
For the basic cost of Internet access (about twenty bucks a month), you can find information that'll make your head spin. Sure, a lot of what takes place on the Net is amateurish, sometimes even vulgar. But there are some real gems out there, if you take the time to look.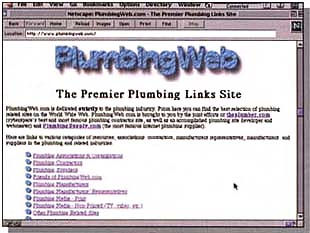 Start with homepages, digital billboards designed to briefly introduce browsers to a particular website. Homepages usually contain "links," or electronic connections to related sites and even more information. For example, punch up the "Plumbing FAQ" (frequently asked questions) home page. There, at the end of twelve pages of plumbing topics, you'll find references to even more sites covering similar material.
Browsing just around the Plumbing FAQ you'll come across some interesting exchanges between plumbing contractors. Ever have trouble picturing what an island vent looks like? Got a few questions about odd noises or smells coming from the plumbing system? Just point and click, and you'll discover answers.
Of course, an information tool like the Net has to have its share of commercial activity, as well. There's a staggering amount of on-line merchandise available, and much of it is geared toward plumbers.
In fact, PlumbingSupply.com is promoting itself solely as an Internet plumbing supplier. A complete catalogue and technical assistance are offered on-line. There are no telephone sales reps. Only fax orders and e-mail are accepted.
Wholesalers targeting the professional plumbing market are also appearing on-line. At least one major player in the west, Hirsch Pipe and Supply, has created a homepage that means serious business. You can do more that just order parts from this company. Technical data is available for a number of products (check out the rough-in specs on the Cadet II Model 2164-135), tool specials, and special trade events.
Most of the industry's manufacturers are following this on-line trend, as well. The homepages being offered to the plumbing trade vary in quality and usefulness, but most of the websites are at least informative.
Lavelle Industries, for example, displays a full-line of plumbing parts and offers visitors a technical guide. Over on the Brass Craft homepage, there are tubular parts listed and cross-referenced by size, type and code approvals. Delta's site offers technical specs and basic troubleshooting guides. For the professional dealing with OSHA compliance guidelines, the Hercules Chemical Co. site even offers material safety data sheets for any Hercules product.
An additional feature of most of these homepages is the "link," an option that allows you to instantly access similar sites. When you're done with the Hercules page, for example, a quick click of the mouse will take you to the plumbing web.
Most of the homepages also accept e-mail. If you need more information or wish to make a comment or suggestion, here's your chance. On many of these websites, there's even the option to place an order.
Buying on the Internet is as simple as placing a phone or fax order, and there's less paperwork. Point, click, enter, and you're done. You pay for the stuff with a credit card, which can cause problems for some users who are concerned about credit card fraud. Just be cautious. All Internet credit card purchases should be handled on secured lines. Most order forms display a window indicating whether a line is secured or not. And although fraudulent use of your credit card is still possible, buying on the Internet is at least as safe as giving away your card number on the telephone.
Tapping into the Internet won't solve all your plumbing concerns, just yet. But it's rapidly becoming less of a gadget and more of a powerful tool that can be used to improve your business.