courtesy of Time Magazine, November 11, 1996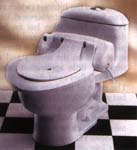 The latest industry to be targeted by Japan is toilets, and the American king of porcelain is sitting uneasily on its throne. TOTO, world leader in plumbing and toilets with $5 billion in sales, says Kohler is playing dirty. TOTO says the Wisconsin-based company (estimated sales: $1.8 billion) is trying to keep TOTO's line out of plumbing distributorships. Not any distributors are complaining, but Jay Katz of Morrison Supply of Dallas, which has 24 stores across the state, says he was advised by Kohler not to sell TOTO products: "They are trying to press upon us that they will look at our distributorship in a different light." Kohler declined comment.
Last year some 9 million toilets were sold in the U.S. TOTO, which makes a high performing one-piece model, is trying to benefit from revised building codes that require low-water-flow units. Its U.S. subsidiary has sales of $100 million. TOTO also makes the world's most high-tech toilets, which it is introducing into the U.S. Features include built-in deodorizers and control panels that spritz cleansing jet sprays and warm, drying blasts of air.