About this time a year ago, a Texas plumber had a very strange and disturbing day. Angry phone calls – some threatening harm and even death – started rolling in, accusing him of supporting a militant group in Syria. Photos posted on Twitter had gone viral, and chances are you've seen them.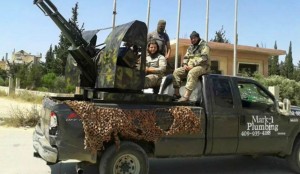 A year later, the business owner is suing the company that he sold the truck to, claiming they stopped him as he began removing the decals and instructed him not to, as the paint could be damaged, reducing resale value. He says a company representative informed him they had a special procedure to remove such decals without damage. Sounds great… if it's actually done. Unfortunately, it wasn't.
This kind of occurrence is nothing new, but in an age of international commerce and social media, these kinds of mistakes can quickly escalate into very serious – and potentially dangerous – territory. The business was forced to temporarily shut down, and the lawsuit states its reputation "was irretrievably damaged."
So, for all you plumbers, contractors, and anyone with marked business vehicles, we have some advice: remove any and all decals or signage before the vehicle leaves your possession. There are plenty of internet tutorials on how to do this without causing damage. Even if you do mess things up a bit, we think it's worth the money you might lose. Even if your old rig doesn't end up in the hands of bad people (and really, chances are they won't), any domestic miscreant could masquerade in your company vehicle, performing unauthorized repairs or committing crimes. Even non-criminal acts could jeopardize – "your" vehicle parked at the wrong place at the wrong time could be equally damaging. If for some reason you're unable to remove the signage, ask to be present when the dealership (or whoever) does, or demand proof that it was done before sale.
You've heard otherwise, but we're here to tell you: not all press is good press. Protect your business and your name, because misfortune and absurdity know no bounds.
Sources:
http://www.cnn.com/2015/12/14/us/terror-truck-lawsuit/
http://abcnews.go.com/US/texas-plumber-suing-dealership-isis-trade-truck/story?id=35772623