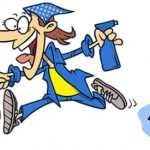 Spring is upon us! The verdant freshness tempts us to open our windows and doors, to no longer sequester ourselves in our winter dens; an inexplicable desire to bring that freshness indoors. Thus, our long-standing and ritualistic habit of "spring cleaning" begins.
As you begin the yearly frenzy of dusting, mopping, and washing of all …
Continue reading
Spring Cleaning? Don't Forget Your Plumbing!